Surprise! Europe and Foreign Markets Have Outperformed the U.S. in 2017…Will it Continue?
On May 15th, 2017, the cover story of Barron's read "Europe on Sale: Time to Buy Foreign Stocks", making a case for what we at WESCAP concluded some time ago.  As investors, it can be easy to focus on what has performed well in recent memory, and the U.S., specifically the S&P 500, has dominated world markets for the better part of a decade to this point. 
Past U.S. Outperformance
Since the financial crisis of 2008 (12/30/08 – 4/30/17), the S&P 500 has returned 215%, compared to the Stoxx Europe 600 index return of 105% and the MSCI EAFE index return of 97%.  At current levels, the MSCI EAFE remains 20% below its 2007 high. The Federal Reserve (Fed) moved quickly during the financial crisis to use monetary policy to reduce interest rates to near zero, driving investors into U.S. stocks and other riskier assets in search of higher returns. However, conditions are different now than a few years ago.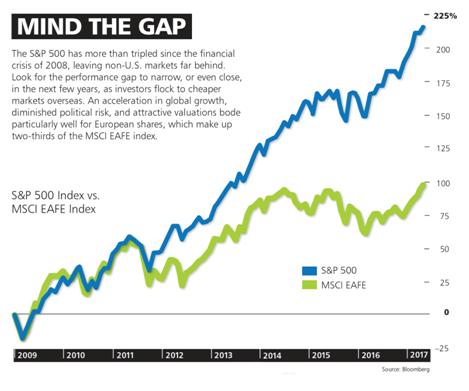 The Case for Europe and Foreign Markets
We are now seeing a divergence in monetary policy as the Fed has slowly begun to raise rates, while the European Central Bank and the Bank of Japan have continued to ease, keeping interest rates low.  This is expected to serve as a significant tailwind for foreign equities in conjunction with more attractive valuations in comparison to U.S. stocks.  Along with a pickup in European and overall global growth, this has resulted in foreign markets seeing more investment fund inflows this year than for the U.S.  Therefore it is no surprise that the European stock indices are outperforming this year.  Through 4/30/17, the S&P 500 total return has been 7.2%, versus the Stoxx Europe 600's return of 12.5%.  Not only have European stocks outperformed this year, but it is also true for the Emerging Markets (MSCI Em Mkts up 13.9%).
WESCAP investment strategy
Adequate exposure to global markets has always been a core belief in our firm's overall investment strategy. In anticipation of this current market shift, WESCAP Group has been steadily shifting our allocation to provide even more exposure to foreign markets, both developed and emerging. We are beginning to see a transition from U.S. outperformance to foreign markets outperformance given less expensive valuations, generally favorable monetary policy, a pickup in global growth and investors recognizing these positive developments and beginning to favor them in their asset allocations.
Ultimately, this potential shift serves first and foremost as a reminder of why we invest in globally diversified portfolios.
Related Posts